The combination ensures the models are automatically optimized for the Katana ultra-low-power Edge AI SoC platform for designers of IoT devices for vision, voice, sound, and other sensor-enabled applications.
Synaptics Incorporated today announced that the evaluation kit (EVK) for its Katana ultra-low-power Edge AI SoC platform is now available within Edge Impulse's web-based Studio environment. Machine learning (ML) models developed within Studio using the Katana EVK will be automatically optimized for the Katana SoC platform, allowing for quick deployment of efficient inference capability for voice, vision, sound, and other sensor inputs on low-power edge AI Internet of Things (IoT) devices. The EVK enables industrial and consumer applications such as people detection and counting, object and pattern recognition, keyword spotting, sound event detection, fall detection, asset or inventory tracking, digital meter reading, and environmental sensing.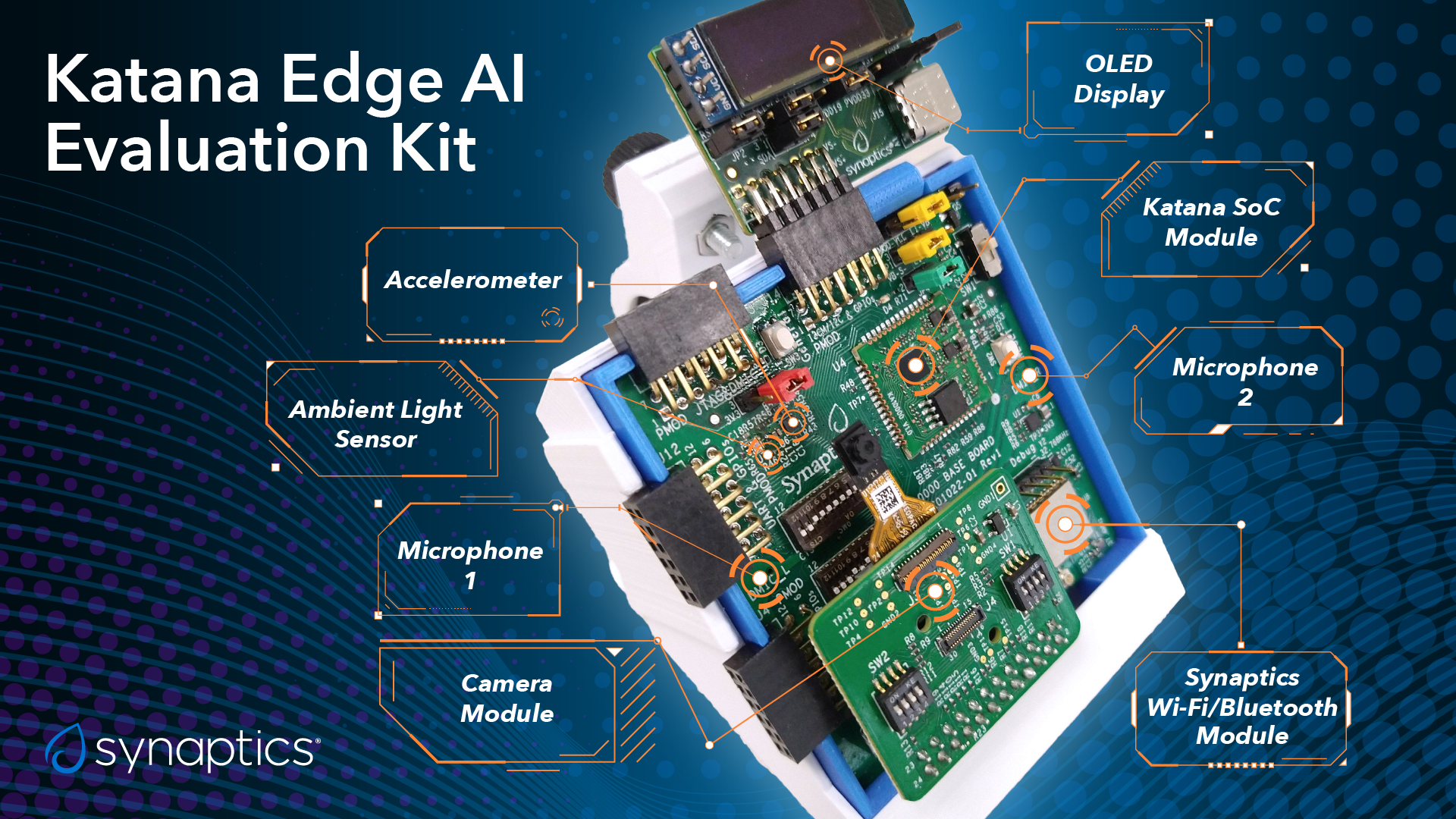 "Applications for AI at the edge are growing exponentially, but scaling AI development is challenging due to the uniqueness of the design requirements and datasets involved," said Venkat Kodavati, SVP and Chief Product Officer at Synaptics. "It's critical that embedded developers be armed with the right hardware and development platforms to more rapidly and efficiently get their concepts to market in this increasingly competitive space."
Edge Impulse Studio simplifies the development of custom algorithms, allowing developers to create datasets and pre- and post-process data efficiently. Hosting the Katana EVK on Edge Impulse Studio enables the training and optimization of ML models specifically for the Katana platform, using developers' own application datasets. This allows developers to quickly create custom ML models that take full advantage of the Katana Edge AI SoC platform, particularly its low-power characteristics.
"This is an exciting announcement as it brings together Synaptics' strengths in integrated, low-power SoC implementations and Edge Impulse's efficient methodologies for customized ML model development," said Zach Shelby, CEO at Edge Impulse. "Developers will benefit greatly from having a robust and streamlined environment for quickly designing, training, testing, and deploying the next generation of edge AI innovations on the advanced Katana platform."
The Katana SoC platform features a multi-core architecture optimized for ultra-low-power and low-latency voice, sound, and vision applications. Its integrated advanced neural network engine supports simultaneous inference for both computer vision and sound event detection (SED) with the ability to process both AI models in parallel. The Katana EVK integrates Synaptics' market-leading Wi-Fi and Bluetooth solutions with a camera, microphone, accelerometer, and ambient temperature sensors to provide a complete module that further simplifies system design and implementation.
Availability: The Katana Evaluation Kit (EVK) is available now; contact your local Synaptics sales representative.